Tell Them That You Love Them
Posted on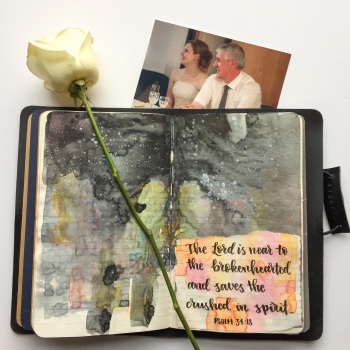 I really believe in journaling - it's a big driving force behind my business. Whether you write pages and pages, or you can only manage a few lines, journaling is a fantastic way to work through feelings, understand and process situations and emotions. Writing out how you feel can help you unravel the most complicated of situations. Journaling is a bit like counselling I guess. It can help you record and remember the good times as well as help you survive the bad.
Last Tuesday my world was rocked by news of my Father's death. I've always been a Daddy's girl, so this day was never going to be easy. It's a day I have feared more and more as we both got older. Despite that, I still thought it was a day far off. He was still relatively young and he was healthy. Yet, last week on my birthday a police officer arrived at my door to inform me he had died.

I'm still in shock. I still cannot quite understand or believe that this is it, he's really gone. I've had my last hug, we've shared our last conversation. He won't be teasing me or advising me any more. That big bear of a man who has always been such a huge part of my life, is gone.
I am sorry to say I have had to shut the shop for the moment due to this shocking news which has hit me so very hard. I will be endeavoring to make and send out any existing orders as soon as possible, but I am not taking any more orders at this time and I greatly appreciate your patience with things as I grieve.

Take care of yourselves, and be sure to tell those around you how you feel about them. My main comfort right now is knowing how much my dad always loved me and he knew how much I loved him.

Psalm 34:18
"The Lord is near to the brokenhearted and saves the crushed in spirit."