The Soft Cover Journal Experiment Conclusion!
Posted on

Over this last month I have been experimenting, as you'll know from the last newsletter, with housing a soft back Moleskine journal in a
Slim
inkDori
along side a few large cahier journals and a
zipper organiser
pouch - because I cannot be without my
zipped
organister
pouch
! I loved the set up, but wasn't completely comfortable with hanging all that off one elastic - so I have created the
inkDori
Slim Plus
- it's the same size and shape as the
inkDori
Slim
, but is
threaded with two elastics
. This means you can have one elastic for your soft cover journal, and another for the cahier journals and
zipper
orgnasiser
pouch
.
This makes it perfect for those #bujolovers who prefer bullet journaling in a more substantial journal. There is less overhang when filled compared to the
inkDori
Slim
, but don't worry there is still enough to protect your journals. As well as the new
inkDori
Slim Plus
(Available as a
basic
with only the standard prayer journal inside, as all inkDori do, or as a
'starter set'
with a prayer journal, personalised journal and a
zipper
orgnaiser
pouch
already in it - all you need to add is your Moleskine Soft Cover Journal!)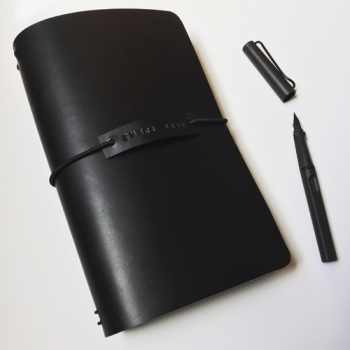 There is also a new colour ... Hackney Carriage Black - yes, our first black inkDori!
It looks very smart I have to say, perfect for the sleek business professional, or chic fashionista!
From today until 11pm (GMT) on Sunday you can
save 10% on a new inkDori Slim Plus, by using the code "BuJoLover".