Bible Journaling Series: Tawni
Posted on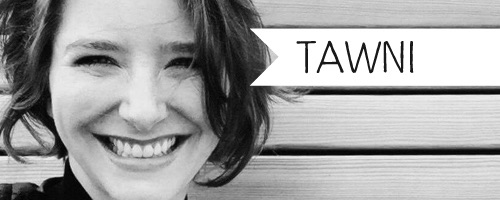 Share a bit about yourself, who you are – your back-story. I'm Tawni, a mama and maker in Vienna, Austria – originally from the PNW in the States. My husband and I moved to Vienna with our son about five years ago, and have since added another son to the mix! We believe God called us here for a purpose; my husband works at an international Christian school, and we lead worship together at an international, bi-lingual church. I've also recently opened a hand lettering and design shop, and run a blog about organization and lifestyle.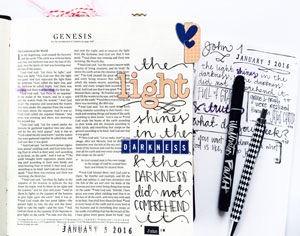 How did you discover / start using your journaling Bible for creative worship? I guess I'd been "bible journaling" for a few years, by always highlighting and writing in the margins of my study bible. Then I added a separate notebook/journal to my study routine so I'd have more room for notes and doodles. After about a year of studying and journaling that way, I stumbled upon a couple of Instagram accounts that had journaling bibles, and a new world was opened up to me through that.
Would you consider yourself a creative person / Are you creative at any other time in the week? Absolutely! I've always been creative, and have used my creativity in a variety of ways – lettering, painting, singing, writing, etc. It's a big part of who I am, to be creative. I try to set aside time to create something new everyday, whether it's a design for my shop, writing a new blog post, or even just trying something new in the kitchen (which usually fails, I won't lie).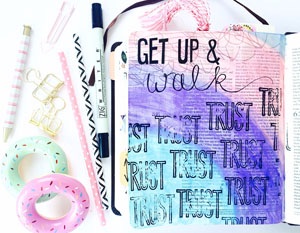 Do you have a set time of day or in your week set aside for Bible journaling, or does it just happen as and when you can fit it in? I used to schedule bible journaling into my week, but ended up scratching that and now it's more spontaneous, which is healthier for me personally.
Please can you explain a bit about your process? To be honest, my process has changed over time, and I'm in the midst of trying to get back to just the basics. The process I'm trying to return to is this: pray first, read scripture, pray again, reflect and listen to God, and then create. Another process I love deeply is to put on a playlist and just start doodling/lettering lyrics as they speak to me. I usually do that in a separate notebook though, rather than in my journaling bible. Either way, I'm always at home, and it's usually in the morning when my boys are at school/daycare so as to limit my distractions.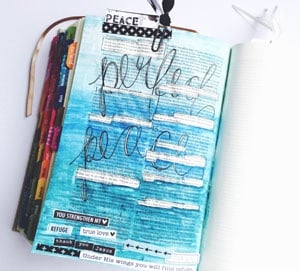 Why do you draw/paint/stick/letter in your Bible? This has actually become the question for me, lately. What began as a very private, spiritual experience turned into something that seemed very forced and, dare I say commercial, after some time. I've always been the kind of person who prefers to swim upstream, or who tries to avoid trends, and although I am not saying bible journaling is a trend (at least I hope it's not!), I felt very much like I was falling into a trap of my own making – a trap that had me more concerned with showcasing my work and all the supplies and resources I had available to me, rather than keeping focused on God and what He was speaking to my heart. To answer the question though, the reason I began bible journaling was because as a creative person, doing something creative in response to what God was teaching me felt like one of the most natural ways to worship Him. I always felt very in touch with the Holy Spirit as I made my letters and watercolored on my page, and whether I shared my work or not was of very little consequence. I shared only when I felt God was giving me a particular message that He wanted me to share.
Please could you introduce us to your style? Before I had access to any other supplies, my style was very minimal: I used watercolor over the page, and then once I was sure the page was dry I'd do some lettering/doodles in the margins with black pen. Sometimes I even skipped the watercolor and just used black pen on a blank page! Then I joined a creative team for some time and suddenly had access to a plethora of other supplies. I really loved being able to add alphabet stickers and washi tape to my pages, but after having tried the full-on scrapbooking version of bible journaling with cutouts/die-cuts, scrapbook paper, stickers, stamps, and such, I can say with confidence that my true style is much more minimal, and I am looking forward to getting back into it!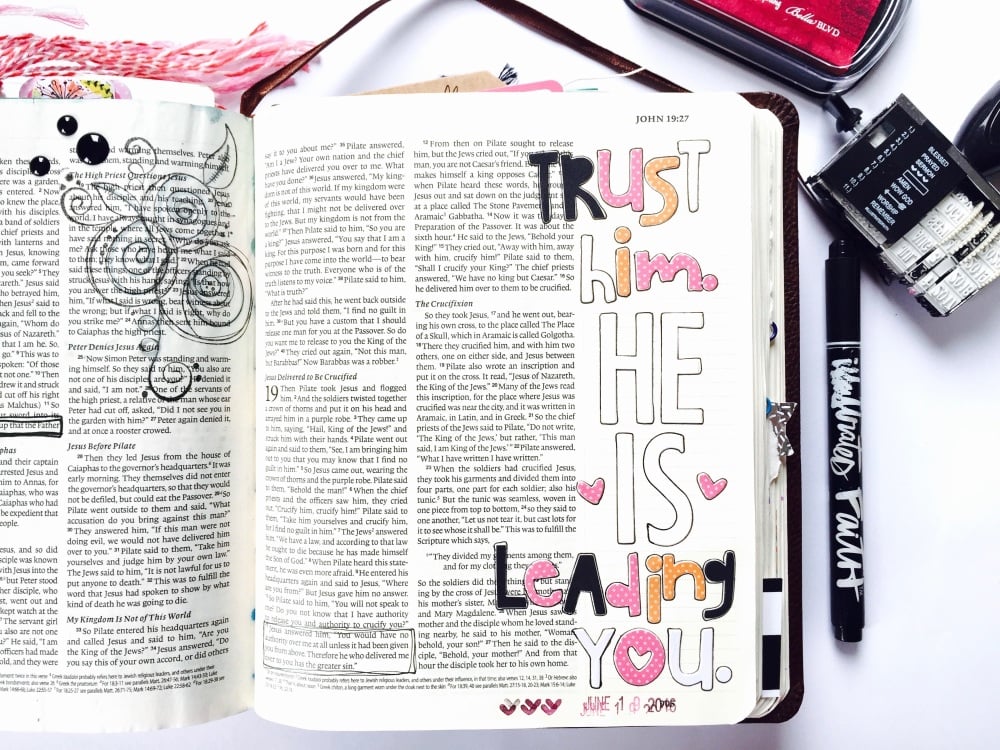 What is your favourite page in your journaling Bible and why? This is one of my favorite pages (above) because of how simple it is. I did absolutely no hand-lettering or painting of my own – I only used alphabet stickers and a date stamp, then outlined the stickers with a pen to make them "pop" off the page. I like this page not only for its simplicity, but I also think it's important for the message to be clear, which I believe it is on this page. This page proves to me that less really is more!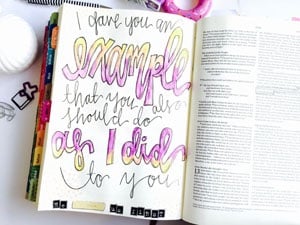 What are your favourite supplies? All I need is a good pen, to be honest, but I do also love to use watercolor, alphabet stickers (clearly!), and washi tape. I also really love using a date stamp on my pages – it's great to be able to look back and have the date stamped on – but then again, the date can be written in with my favorite pen too, haha!
What advice do you have for new starters, especially those who are scared to start because they are frightened of 'ruining' their Bible? Please don't feel like you need to use every supply that's out there. Stick to the basics – meaning stick to what you love, and don't feel like you have to journal in your bible the same way that everyone else is journaling in theirs. If you're a scrapbooker, by all means, go for it, and use every supply you can get your hands on! Either way though – whether you want to use just a pen and a paperclip, or if you want to paint every page and cover it in stickers, cut-outs, stamps, and glitter – check your heart often and listen to God. This journey is between you and Him, and it's not at all about showcasing anything besides the message of Christ. Also, don't feel like you need to share every page from your journaling bible, unless you're hearing God tell you to shout it out!